Back to all posts
Posted on
Love Bomb Presentation @ Wetaskiwin Composite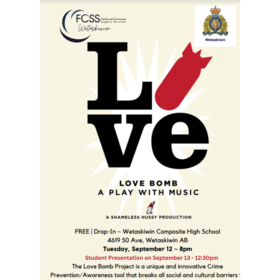 Love Bomb is a theatre production on the topic of Human trafficking. The presentation is taking place on September 13 for Grade 9 - 12 students.
There is a community show on September 12 at @8:00 p.m. if families would like to view the show. 
Permission forms will be online shortly.
11:50 Departure for WCHS
12:20 Arrival at WCHS
1:50 Departure WCHS
2:20 Arrival at PLRS